Fenfiber is traceable to the Canadian farm for natural heartburn relief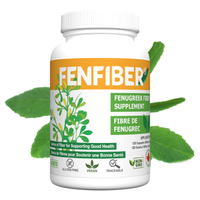 Heartburn Relief with Canada's Most Trusted Natural Fenugreek Supplement
Naturally eliminating heartburn and GERD symptoms is simple with Fenfiber.
Our supplement is safe for daily consumption and contains fenugreek seed husk, which creates a potent barrier for protecting against heartburn.
Fenfiber is grown and produced in Canada, ensuring its safety and quality, with the ability to trace it back to the farm.
Prioritize your gut health by choosing Fenfiber
SHOP NOW
Fenfiber for Heartburn relief, naturally!
Testimonials
Over the past several months I have been suffering with GERD. This product dramatically helped reduce my heartburn so I could at least get a good night sleep. If you suffer from heartburn please take my advice and try a bottle. This product is so reasonably priced it's worth a chance to get some life back.

Garry - Winnipeg, Manitoba
I've had GERD bad for around 5 years... it's been a nightmare. I've tried everything, and I mean everything. All sorts of doctors both natural and traditional (10+). The amount of supplements would be over $8,000. I've also tried gluten free and organic food only but this is really working. I can't really believe it. Not sure what to say but it can't be just the fiber. I've tried tons of fiber just not this type. I might try fenugreek along with this. Awesome!

Scott B. - Ontario, Canada
This stuff has been a life saver for me the last 4 or 5 months dealing with heartburn or I should say eliminating heartburn. Didn't realize it reduces cholesterol as well.

Barry V. - Saskatchewan, Canada
Tomorrow will be one month and I am still off my GERD/heartburn medication and feeling great! I had been on that medication for 15 years and every time I tried to go off the rebound heartburn was so brutal I had to go back on. I never had anything like Fenfiber which healed my gut! I have been recommending your product to my friends who struggle with chronic heartburn!

Tara A. - Saskatchewan, Canada
I have been using FenFiber for close to 10 years now. I used to suffer from hypoglycemia at least once or more per week. It was very disconcerting when instantly I would get the shakes and I knew I needed sugar right now! I began taking FenFibre; 4 gel caps in the morning and another 4 before bed. Now it is highly unlikely that I suffer a single hypoglycemic reaction in year anymore.
My belief is that a solid balanced gut health is key to an all around healthy life and I think that FenFiber is an integral part of that health for me.

Mel F. - Aberdeen, Saskatchewan
Purchase Online with Bundle Savings (free shipping within Canada)
Shop Local. Support Saskatchewan Locations with these Fine Retailers